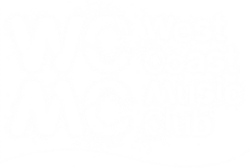 About
So, what is West Coast Music Club? Well, in simple terms, primarily a vehicle for the recording of the songs written by Martin Adams using a spider's web of musical friends, friends of friends, acquaintances, ne'r do wells and passers by. There is, of course, a right hand man in all of this and that duty falls to long time collaborator, musical foil and best friend - Peter. The man who helps turn black and white sketches into full colour landscapes. This partnership is at the helm of West Coast Music Club, as it was in The Eye Dance, an indie guitar band they fronted that wrote and recorded in the late 1980's when guitars were so popular! There are of course references to those heady days with some of the compositions owing their very existence to the jams and rehearsals that were a regular part of being in the band.

So why now, after all this time? Simples - unfinished business. The process started late 2007 but was knocked off the rails by the death of Robin Adams, founding member of the aforementioned band, brother to Martin, house-mate of Pete and all round good guy. This realisation that nothing is forever, as obvious as that might seem, was the kick up the backside necessary to give the project the impetus required.

Discography

And here we are. 2012 with the first complete body of work ready to be released to the discerning listener. What do we expect from this, well that's a tricky one. In the first place we simply wish to share what we believe to be enjoyable entertaining songs with a wider audience. Thereafter I guess it's up to you. This co-operative, for that is what it undoubtedly is, involves a myriad of talented people who have given of their time and creative energy in the pursuit of something to be proud of….
For What It's worth.

Contact
If you'd like to contact us regarding our music (or anything else for that matter) then send us an email to hello@westcoastmusicclub.co.uk or if you'd like to follow us on twitter then click here :)